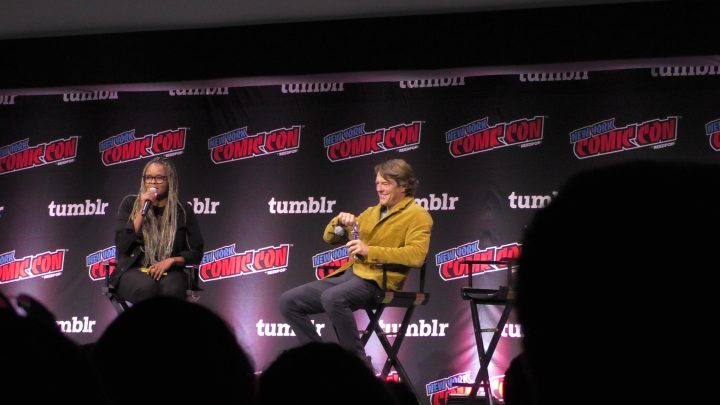 What better way to spend the night before Friday the 13th than with the king of horror, Jason Blum! The Paranormal Activity creator brought to New York Comic Con a chilling sneak peek at what scares Blumhouse has in store for fans. Joining Blum were the directors of three of the top upcoming movies from Blumhouse, Totally Killer, Night Swim, and Five NIghts at Freddy's.
First up, Totally Killer, a comedy horror film directed by Nahnatchka Khan and starring Kiernan Shipka. When a serial killer returns 35 years after their killing spree, 17 year old Jamie (Kiernan Shipka) accidentally goes back in time to 1987, determined to stop the killer before they can start. You can watch Totally Killer currently airing on Prime Video.
Things got serious with the next film, Night Swim, from director Bryce McGuire. Based on McGuire's 2014 short film, Night Swim is about an evil spirit terrorizing a woman in her pool during a nightly dip. The movie stars Kerry Condon and Wyatt Russell and promises to bravest swimmers afraid to go back in the pool. Night Swim is set to be released by Universal on January 5, 2024.
Last, but certainly not least, was the film everyone seemed to be waiting for. The crowd went wild when they were shown a clip from Five Nights at Freddy's from director Emma Tammi. Based on the video game series of the same name, Josh Hutcherson stars as a new security guard on the night shift at Freddy Fazbear's Pizza. During his first night on the job, he realizes that there more to Freddy's than meets the eye and starts to unravel the mystery of what really happened at Freddy's. The movie also stars Mary Stuart Matheson. Five Nights at Freddy's is coming to movie theaters October 23, 2023 from Universal.
And that's a wrap! For more Blumhouse news go to Blumhouse.com.