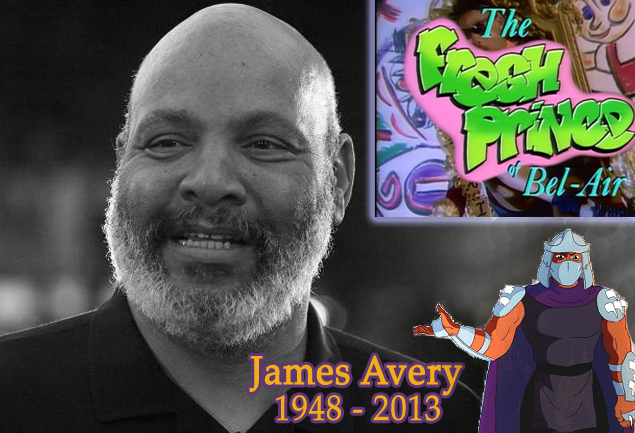 It is with much regret that the first piece of news that I have to report for Whedonopolis in 2014 is the passing of James Avery.  Many know Avery from his performance as Uncle Phil on The Fresh Prince of Bel-Air, but he will forever hold a special place in my heart for voicing who, to me, is the greatest Saturday morning cartoon villain of all time: Shredder from the original 80's-90's run of Teenage Mutant Ninja Turtles.  It is unfortunate that he did not make an appearance in John DiMaggio's recent documentary I Know That Voice, for he lent his pipes to many other cherished animated shows in the past few decades, including War Machine on Iron Man and Spiderman, the Junkyard Dog on Hulk Hogan's Rock N' Wrestling, Killerwatt on The Real Ghostbusters, Haroud Hazi Bin on Aladdin, and many more in addition to other on-camera roles such as Officer Kennedy on That 70's Show.
Talkin' Toons podcast host Rob Paulsen tweeted in memory of his TMNT co-star earlier this morning:
So very sad to hear of the passing of James Avery. Our original Shredder and a good friend. R.I.P.

— Rob Paulsen (@yakkopinky) January 1, 2014
Rest in peace, Mr. Avery.  Thanks for the memories.