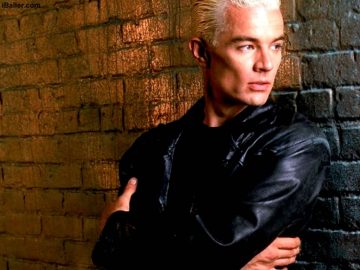 Big news in the Buffyverse!
A new series is coming to Audible soon where Spike (James Marsters) is the hero, and exists in a world where someone is missing. However, he'll have to deal with his ex, or the world is destroyed.

Entertainment Weekly just announced that Slayers: A Buffyverse Story will be coming October 12th, and a major panel the next day at New York Comic-Con. This should also be discussed at the Sunnydale Homecoming next month in Torrance.
The best news is that several cast members will be part of the show, including Emma Caulfield, Juliet Landau, Anthony Head, James Leary, Danny Strong and Amber Benson.
It's an interesting move, considering Doctor Who has been making audio dramas for years. It's been a big hit because he is paired with different companions and the stories add more background to the series.

Slayers takes place many years after the last episode. Spike is in Los Angeles, claiming to be as evil as ever. He still has a soul, though, and crosses paths with a girl named Indira (Laya DeLeon Hayes) who seems to be a Potential. He hopes to find Buffy so she can train her, but soon finds himself in a parallel world that's a little different. Someone is missing, another girl is the Slayer, and the Big Bad is a familiar face. This link gets deeper into the story, which is a doozy. This should interest those who read Big Bad, where the "bad guys" had to fight the Slayer in an alternate world.

"I'm ecstatic to be back with my dear friends for this next chapter in the Buffyverse, as we take listeners on a familiar but unexpected journey chock full of horror, passion and mischief," Marsters told EW. "I'm excited for old and new fans to experience this beloved world of vampire slaying like never before, brought to life through immersive audio storytelling."

It's free for Audible members, but $15.27 for non-members, which is still a good price. Here's a link to order.

The book was written by Benson and Buffy book vet Christopher Golden. More details will be coming soon.
If this is successful, maybe Audible will restructure the Buffyverse where more than one can exist…and maybe the fates of certain people can be changed. This might be bigger than comics.
UPDATE: Golden said on Twitter that the story will be nine episodes, all available at once. It will stick to TV continuity, which means the Dark Horse canon won't be included. Also, Anthony Head had to voice his role via streaming from the UK, but no owrd yet on who might be also in the story.