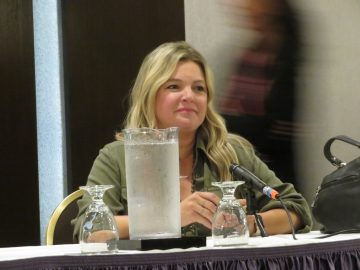 The god Glorificus wasn't like any other adversary Buffy Summers encountered over the years. She was just as sassy and maybe a bit more powerful. Of course, she was defeated, but not without a fight.
Twenty years later, Clare Kramer is still very popular to Buffy fans but also well-known for the cheerleading movie Bring It On and a famous podcast.
She was a featured guest at Fandom Charities' Hellmouth Convention at Hilton LAX early in June.
She was asked many questions about her career, including how she auditioned for Glory.
"The material they sent me for the audition…they just sent me like two plain pages of dialogue. No character name, no description," she says.
"I just watched The Shining with Jack Nicholson. For my audition, I channeled Jack Nicholson."
Kramer also talked about how the COVID pandemic affected her neighborhood, especially school work.  "I partnered with three other families and we hired a teacher," she says. "We put nine desks in there. The teacher had a desk. Each grade had their own little section, and we ran school at my house for a year."
She also described how she almost lost out on her role in Bring It On when she was also auditioning for a role for another dance movie called Center Stage.
Whedonopolis will present a video of Clare's panel later this summer,