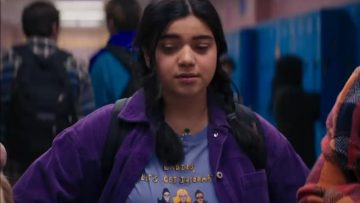 Kamala Khan is just a young Muslim girl from Jersey City. She's also a big fan of Captain Marvel, and wonders what it would be like to be her.
Thanks to some "junk", she'll get that chance. Can she handle it, though? It's not like Kate Bishop, who was fairly trained to become Hawkeye's assistant. Then again, Kamala's experience is more common in the comic books world than you think.
The first episode concentrates on Kamala, her family life, and her obsession with the Avengers (Captain Marvel especially). Of course, it includes a disapproving mother who favors her "good son". The moment things change comes late in the episode, but that also happened on Moon Knight. It's more of a prologue before the main conflict begins.
SPOILERS BELOW
People may wonder why so many people think Kamala must make a decision now on who she wants to be, especially her principal and her mom.
She's 16. Maybe it's a bit too soon?
She still has good friends like her tech-savvy friend Bruno and fellow classmate Nakia, trying to get through school. Bruno certainly hopes to be the next Tony Stark with his skills.
Most of the episode is based on Kamala's plot to get to Avengercon at Camp Lehigh. Of course, her family  doesn't want her to go. She hopes to win a Captain Marvel cosplay contest, and is able to sneak out with Bruno.
Just before that, she adds a strange wrist band that came from her nani back in Pakistan. Her mom just calls it junk, but is it? Once Kamala puts on the band, though, she suddenly gets enveloped by…something. She even has a weird out-of-body experience. She emits a purple cloud of something, but also accidentally breaks a large Ultron statue. That causes a lot of mayhem, but she at least learns how to catch a falling girl.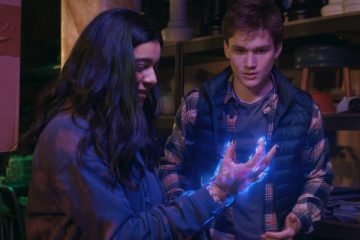 Kamala is intrigued by whatever happened to her, but her mom is still disappointed in her. It's a typical super-hero/coming of age story.
Unfortunately, some agent named Cleary (who was last seen arresting Peter Parker) thinks Kamala's a threat. Whether this means he'll (Arian Moayed) send her behind bars for the worst reasons, it's still a bit early.
It's also not certain where that wrist band came from, and what it did to Kamala. Is it of alien origin, or something earth-bound yet supernatural?
Imani Vellani has a lot of appeal as Kamala, a teen who's having a tough time trying to get her driver's license and handling her new abilities. There's also some conflicts within her about how she fits in with her family and her community, but it seems most of that is centered on her mom. How much is too early to say.
Matt Lintz is also good as Bruno. He seems to be an outsider in his school despite his abilities, and it's easy to see why he is pals with Kamala.
Some may be put off with Kamala's mom, Muneeba (Zenobia Shroff), and her attitude towards anyone who isn't serious. She comments about someone who cancels her wedding an left for Europe. Still, there must be more to this.
The show also has odd special effects on the buildings and even neon signs. This is to show this is all from the perspective of a teenager who supposedly has her head in the clouds. It may be long before she really is in the clouds.
The story is just six weeks, like Obi-Wan Kenobi, so fans won't wait long to see what Kamala's mission will become despite a possible threat from paranoid agents. Compared to the other MCU shows, this is geared towards teens and young adults. That's a good idea, because sometimes having shows with slightly smaller stakes can still work. It'll be interesting how this will fit into the upcoming movie, The Marvels…and how Kamala's mom might wind up there, too.
Oh, and Imani appeared on The Tonight Show. Here's her appearance.
Ms. Marvel airs Wednesdays on Disney Plus.