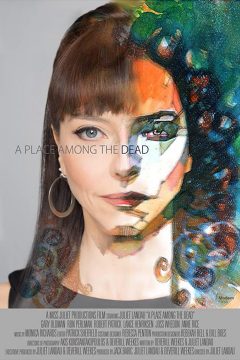 Juliet Landau's new movie, A Place Among The Dead, has been shown several times in special online screenings, and on a theater website, since November.
It's been getting a lot of comments and praise from fans who have checked this out. Some that may have expected this to be a horror movie have responded to what it really is.
It's about one woman's obsession with an evil man who may or not be a vampire, but it also has some comments about narcissism, lack of empathy, and how darkness can be attractive.
Landau plans more special screenings this year before it eventually heads to streaming services. Two screenings, along with panel discussions of the movie, will be held later this month.
I saw the screening of the movie in late December. The entire experience was quite long but also enjoyable, too.
First, the movie:
Landau plays a fictionalized version of herself, called Jules, who investigates a series of murders for a project. Before she starts, she talks to a few people who warn her not to get in too deep in her investigation. They include Gary Oldman and Anne Rice.
She finds out about several girls who have died apparently at the handing of someone named Darcel. It seems like this movie is about Jules and her search for Darcel, and how it might get horribly wrong.
However, Landau adds some discussion about evil and narcissism, and Darcel's possible motives. They are also compared to the myth of the vampire, who offers eternal youth to his victims but actually commits evil with no sense of remorse. The discussion includes many familiar faces including Joss Whedon and Ron Perlman.
As for Jules, the story includes some hints about her own past, especially being in a certain TV show. Her obsession in the case also starts to affect her, like hearing strange noises and disturbing visions.
She also meets a victim named Veronica who was brutally attacked because Darcel didn't think she was pure.
This lead to dark places, like a room filled with mannequin parts (courtesy of Darcel, maybe?), and a disco with a girl that is into the goth lifestyle but has an ordinary job in the daytime.
It's not long before Darcel seems to be turning his attention to Jules, especially with very creepy art that he's been leaving behind.
The cases starts taking a toll on her, thinking her creativity is even draining away. Eventually, she vows to confront and destroy Declan for herself and his victims.
Does she?
Landau has quite a task being the star, co-writer (with Deverill Weekes) and director of this movie, but she handles them all very well. The movie is structured like a documentary/video diary of the case Jules is investigating. Seeing her obsession with Darcel grow aligns with doubts about herself and her relationship with friends. At first, she relies on the cops and friends to deal with Darcel, but eventually she takes matters into her own hands which makes things darker for her.
As mentioned,  Landau is showing her movie at the Laemmle Virtual Cinema website and in occasional special screenings. Her last one in late December featured a panel that discussed how narcissistic relationships can be destructive. That was followed by a zoom meeting of dozens of fans where they talked about the movie and how it affected them. Actually, that was more interesting than the panel. There was even an appearance by Harry Groener, who was the evil Mayor in season three of Buffy.
Coming up on February 12th at 6 PM Pacific time (9 PM Eastern), there will be another special screening geared for the Australian market but is available worldwide. The link here includes details about the movie, plus guests including Landau, Groener, Deverill Weeks, and Dawn Didawick.
Another screening has been announced as part of Crypticon in Seattle on February 20th. The movie will start at 11 AM Pacific, followed by a panel and a Zoom event that anyone can join. If you can, go for the movie plus the panel for the full experience. Maybe try both, because it's never the same experience twice.
For more info, go to modernfilms.com/aplaceamongthedead