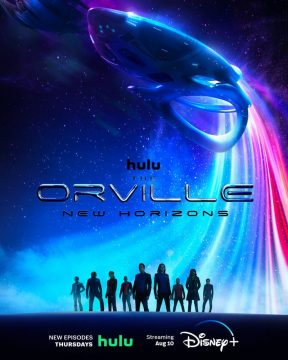 The Orville: New Horizons is in full swing streaming on its new home on Hulu. Cast members Penny Johnson Jerald, Anne Winter, Mark Jackson, Peter Macon, Chad L. Coleman, Jessica Szohr and J. Lee along with producers Brannon Braga and Tom Constantino were on hand for a big Orville panel at San Diego Comic Con. Much to fans' delight, there was also a special virtual guest for the panel — show creator and star, Seth MacFarlane.
After the spirited panel, we sat down with some of the cast and producers to talk about the "new horizons" explored and what the future is for our favorite crew of The Orville.  Check out the panel and interviews below.
The Orville: New Horizons (and seasons 1 & 2 of The Orville) is currently streaming on Hulu.  If you want more seasons of The Orville, be sure to watch!