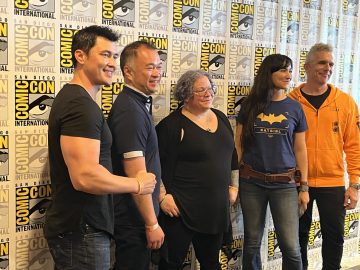 Our intrepid Whedonopolis team at San Diego Comic Con this year sat down with some key members of the upcoming Gotham Knights video game team.  The game, due out in October of this year, is set in the Batman-verse and tackles the question – what happens if Batman dies?  Who will be the new protector of Gotham?  Or should we say "protectors?"
The open-world action RPG is an original story which features Batman's proteges Nightwing, Batgirl, Red Hood and Robin as a new guard of trained DC Superheroes. Get the behind the scenes intel on the making of Gotham Knight with the Gotham Knights videogame team of Patrick Redding (Creative Director, Warner Bros. Games Montréal), Ann Lemay (Narrative Director, Warner Bros. Games Montréal), Wilson Mui (Cinematic Director, Warner Bros. Games Montréal), along with actors America Young (Barbie) as Batgirl and Christopher Sean (You, Star Wars Resistance) as Nightwing.
Gotham Knights is scheduled to release worldwide on Oct. 25, 2022 for PlayStation 5, Xbox Series X|S and PC. To learn more about Gotham Knights, visit GothamKnightsGame.com or connect online via Twitter (@GothamKnights), YouTube (GothamKnights), Instagram (@GothamKnights), Facebook (GothamKnights) and Discord (GothamKnights).