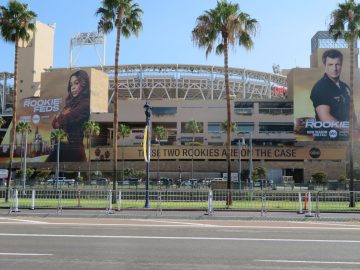 A person who's approaching middle age decides to take on a career in law enforcement, while friends and family wonder if it's a good idea. Sound familiar?
It's the plot for ABC's The Rookie with Nathan Fillion, which has been a popular show for four years.
Now, he'll be joined by Niecy Nash-Betts in a spinoff called The Rookie: Feds. She plays Simone Clark, a former guidance counselor who wants to fulfill her dream to join the FBI. Despite the fact she doesn't follow guidelines, she shows her personal experience is more than enough to proves she belongs.
That also sounds familiar, but Neicy makes this role her own. Fans may also remember her from Reno 911 and Scream Queens.
Both Nathan and Niecy appeared via Zoom at the start of Thursday's lineup at Ballroom 20. Although some fans were mad the actors didn't appear personally (due to work schedule and COVID concerns), it was still a very entertaining show.
Executive producers Alexi Hawley and Terence Paul Winter had planned to do something like this for a while, and found the best project when they hired Neicy. Nathan joked that the harder she works, the less he has to work, but she says her character is her own thing that will does things her own way. It was proven in her two episodes from last season, "Simone" and "Enervo".
The show will also delve into her relationship with her dad. He was jailed for a crime he didn't commit, and he's not happy with the idea of Simone being part of the FBI. She hopes to convince him she'll make a difference this way.
Still, Niecy says Simone will be busy trying to figure things out in her situation, and the most of it.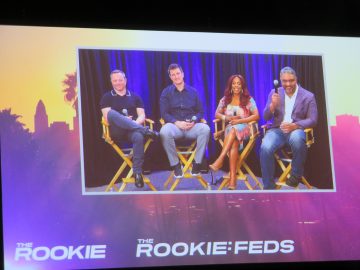 Both shows have finished their first three shows of the new season. John Nolan (Nathan) will still be a rookie, but among training officers. While he helped out a deputy at the end of last season, his first rookie will be a woman (no word on who it'll be). He says it shouldn't affect his relationship with Bailey.

There's also the relationship between Officers Chen (Melissa O'Neil) and Bradford (Eric Winter). They actually share a kiss, and wonder what's next.
The producers also say the plots will keep up to date with current issues related to the law. The spinoff will take on cases in L.A. but also across the country. It's also likely several crossovers will be planned.
Both stars ended the panel with some good advice. Niecy says that "you can accomplish whatever you want to accomplish, and it doesn't matter if you have to do a hard reset, and that to always trust yourself."
As for Nathan, "If you are unhappy, take charge and make that change."
That's what their shows are about, aside from the crime fighting.
Both shows are expected to start in late September on ABC.
Check out the SDCC panel at Whedonopolis Videos here:  The Rookie Panel .