You better watch out, you better not cry, you better not pout
I'm telling you why
These Gentlemen are coming next summer.
Shouting won't work either. Remember "Hush"?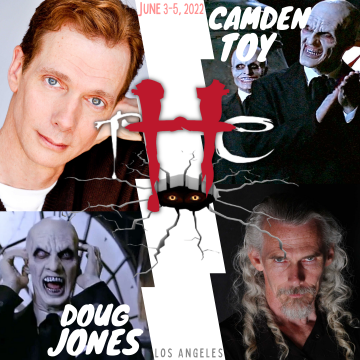 Yes, Camden Toy and Doug Jones from that classic Buffy episode will be part of the Hellmouth Convention, June third to fifth at the Hilton LAX in Los Angeles.
It used to be called Whedoncon when it started in 2016, It has a new name after it was postponed due to the COVID pandemic.
"Evoking 'the center of mystical convergence' established in Buffy the Vampire Slayer," spokesman Chris Cullen said, "our exciting new event name reflects the unique intimate-by-design convention model our team employs. It draws travelers from all over the world. Like The Hellmouth itself, 'things gravitate towards it …that you might not find elsewhere.'"
The spirit of the convention is strong, as the staff showed at Comic-Con Special Edition over Thanksgiving weekend.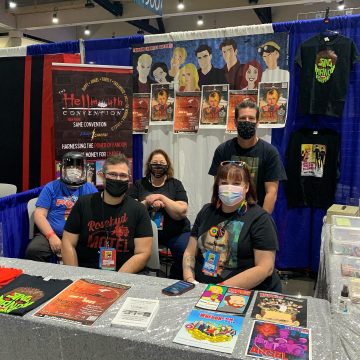 Jones first appeared in the event in 2016 and has been very busy on many shows like Star Trek: Discovery and Fallen Skies. He's also been in movies, most recently in The Shape of Water as the Gill Man. He's also been in Pan's Labyrinth, Fantastic Four: Rise of the Silver Surfer, and the Hellboy movies. Future projects will include a new version of Nosferatu and the sequel to Hocus Pocus.
Toy is also known as the Turok-Han vampire in season seven of Buffy, and in "The Prince of Lies" from Angel. He's also been in several shows like The Bay, Goodnight Burbank and the "Uncanny Annie" episode in Into the Dark. It's the fifth time he has visited the convention.
The convention has already announced Larry Bagby and Tobias Jelinek as guests of the convention. Larry appeared on six episodes of Buffy, but also in the original Hocus Pocus movie. Jelinek has also been in in Hocus Pocus, and on Stranger Things and Agents of SHIELD.
The convention celebrates TV shows and movies made by Joss Whedon. It's expected Buffy's 25th anniversary on TV will be a major part of the event. Proceeds will help benefit the Los Angeles LGBT Center and the Al Wooten Jr. Youth Center.
Of course, the availability of the guests will depend on their work schedules.
Tickets for the convention are available now, and will make excellent Christmas gifts for the Buffy/Angel/Firefly/Dollhouse fan in your family. Just head to thehellmouth.org for more information.