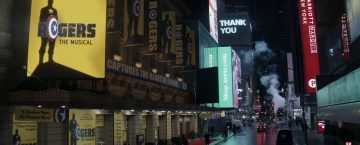 Clint Barton is in New York, hoping to enjoy a happy holiday season with his family. He might even take in the latest musical….
about Captain America
Well, probably not.
A lot of bad guys who he took down when he was a vigilante during Endgame want some payback.
Hawkeye is back, and this time he gets his own Sam Wilson in a fan named Kate Bishop. She's good, and maybe helping him will make her better….maybe. She also has some problems, possibly linked to her trying to be just like Hawkeye.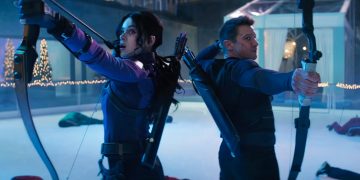 Of course, somewhere in that chaos, Yelena Belova is supposed to kill Clint because some Contessa ordered her. She's not in the trailer, but will be on the show. Another character named Echo is supposed to be in the mix, but we suspect Belova will not kill Clint because Kate and/or other bad guys will try to get her first. If Julia Louis-Dreyfus doesn't pop up, we'll be shocked (we think she will).
This will be based on Hawkeye issues between 2012-2015 where Clint is in a mid-life crisis, and Bishop emerges as a successor.
The trailer looks like a merger of a James Bond movie (Renner looks great in a tux) and Robert Downey Jr. in Iron Man 3. Stanfield looks great as the fan who hopes to be like her idol, but can she compete with Katy from Shang-Chi?
The eight-part series starts November 24th on Disney Plus