It's been six months since the 13th Doctor has been on TV. BBC America presented a special panel this past Sunday morning that featured the cast, a new passenger to the TARDIS….and a grey worm?
Actually, it's Jacob Anderson, Grey Worm in Game of Thrones. He'll be joined by John Bishop, who's making the transition from stand-up comedy to drama. His take on this sharp transition is a real hoot in this panel. The panel video is linked here, and it includes the trailer at the end. You can see all Comic-Con@Home videos in this channel.
Some of the highlights:
The season will be one story arc, similar to Key To Time. The Doctor and Yaz are in the middle of an adventure, and will eventually meet their new fellow passenger, Dan Lewis…and that's all that's revealed.
The cast talked about how they tried to make a season while in the middle of a pandemic. Filming has not finished, but the series should start before the end of the year.
"It's felt really emotional to come back," Jodie Whittaker says, "because we are lucky that get to go to work, and then also it slightly changes it, doesn't it, to day-to-day filming, but it's also mean this this feels so precious and so fun because of what we've all come out of and I think in that it's always a little bit method." She means their experiences dealing with the pandemic are bound to be part of the script.
Bishop says it has been an experience being part of an iconic show, but he also comments about the COVID limitations. He commented it's been months since he's seen anyone's chin. Bishop's jump into drama might remind some fans of Bill Burr making his mark on The Mandalorian.
Mandip is especially excited about meeting one monster in the new season, and being back on the set.  Bishop explains why fans will be excited about the upcoming season:
"What I think's different is obviously when I got the part I went back and I've been watching, you know, watched all the previous series and stuff. What's brilliant is this, that story that's going through, so you end an episode and I know in previous series there's been sometimes  a double episode or something but each episode's ending on a brink point waiting what's going to happen, I think that, if I was a fan, that would be the thing that will make this series so different to the previous ones."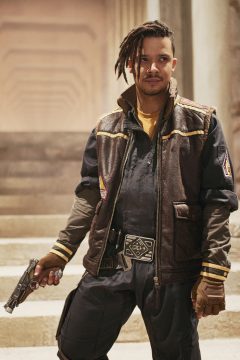 As for Anderson, being on the TARDIS was like being 14 years old watching the show. He calls his new role one of the highlights of his career.
Doctor Who airs on BBC America and AMC+. Another animated recreation of a past Doctor Who series from the 1960's is expected in September.