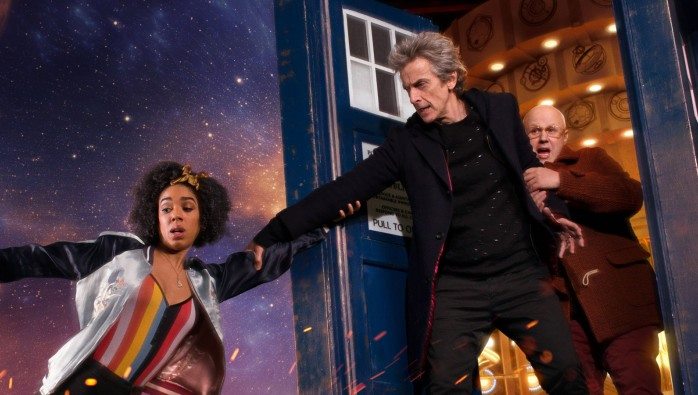 When thousands of fans packed Hall H at Comic-Con for the Doctor Who panel, many had hoped the 13th Doctor might make a surprise appearance.
Although Jodie Whittaker didn't make it, Peter Capaldi still wowed the crowd along with Pearl Mackie (Bill Potts), Michelle Gomez (Missy), and Matt Lucas (Nardole) along with showrunner Steven Moffat and writer Mark Gatiss.
The panel started with a brief look at the Christmas special, Twice Upon a Time…
..and it included the news Pearl Mackie will make one last appearance as Bill. Getting this trailer ready was impressive because moderator Chris Hardwick said the special had wrapped just before the weekend.
In the press room, speaking to reporters, Capaldi said while it's sad to leave the role behind after four years, he thought it was time. "I
want to leave while they're doing good stuff," he says. "I was worried I wouldn't be able to deliver my best one. How many ways can you think of to say 'this paradox split will destroy the galaxy unless we blow up this model spaceship over here.' I could imagine that could become a bit of a struggle as one went on, so I thought just go now."
The special itself is festive and hopeful, even though it will be an end of an era. "Aren't the best Christmas things have a lament column caught to it, because it's about time passing, as it does for everyone, even Doctor Who," he says.
He's already done the big regeneration scene with Whittaker, and he was surprised to learn she's kind of a neighbor of his. He says she'd been in numerous cafes and restaurants in his area. He hadn't met her until the big regeneration scene, but he thinks she'll do great and hopes she'll enjoy it.
For the record, he didn't take anything from the TARDIS, not even a sonic screwdriver.
Moffat and Gatiss had the best comments about the special, and the response to a woman taking over. First off, Moffat says the story it's exactly like It's A Wonderful Life, except you have two Doctors afraid to regenerate but must, to keep history and the future going. "Doctor Who doesn't work like that," he says, "but it's absolutely in there: 'what's the point in me', 'shouldn't I just stop?' It's the idea of 'I'd like a rest, well, you can't have one.' The Doctor fails then he rises, twice."
As for whether the First Doctor will remember meeting the latest one, Moffat says the memory rule still applies. "When the time lines are out of sync, you can't retain it," he says. "Missy says that to the Master. Matt Smith said that to David Tennant. We have to assume, for years, that the Doctor only retains the memories of his most recent incarnation. We have to, otherwise it doesn't make any sense, and we couldn't have Doctor Who not making sense, could we?"
Moffat also insists most Doctor Who fans welcome a woman becoming a time lord. "Eighty percent approval on social media," he says. "We haven't got a government that gets elected with those figures. There were more people talking about the backlash than there were people backlashing."
Actually, he said he had a chance to create a Doctor with manly qualities…then discovered he doesn't have any because he's more than that. "He's an alien who has taken the form of a human male," he says. "He's about to do the form of a human female. He, herself, will probably not notice." It doesn't mean, for example, the Doctor will get pregnant.
Then there was Peter Davison's comment in the Telegraph that making the Doctor a woman means boys will lose a
role model. However, if anyone read the second sentence, he says Whittaker is a great actress but he has his doubts about it. He also understands why the BBC went this way.
"Peter Davison, by the way, committed feminist and absolute liberal," he says, "was making some perfectly sensible points with you  can agree with or disagree with, but he didn't say any of the things the headlines had to say."
Gatiss says he's not sure if he'll be around for season eleven, but he will be seen in the holiday special as a World War One captain.
For now, no speculation on who will be traveling with the new Doctor, As Moffat put it, "my input absolutely ends at the moment Peter Capaldi explodes."
When Pearl Mackie  arrived, she pretended she didn't know she'd be in the Christmas special (she is, and is sure there will be snow and three Doctors).  She also looked back at her season with the Doctor as Bill Potts. She admits she watched most of the episodes live, then checked Twitter to get the fans' response. "Overall, it's been really positive, which has been incredible for me," she says. "There's been a couple of episodes I was like 'ooh, I can't wait for them to see that one', so we explore when things got to go a bit more wrong, it's less sort of introductory and more exploratory. Like episode three ("Thin Ice")  when she really challenges the Doctor, and in five ("Oxygen") when he engages in potential death, that kind of vibe." Even though she will be leaving after the holiday season, she 's open to returning.
She also had a lot of great praise for Capaldi. "I just feel lucky that I've been able to work with him," she says. "I think that he's
such an incredible actor, such a brilliant Doctor, and such a nice guy."
Her suggestions for the next Companion include staying hydrated and getting an expresso machine. She also was told by Jenna Coleman and Karen Gillian to be careful when eating this type of Welsh food (better to link to it than say what it is).
Then Gomez and Lucas arrived, and he started by saying he was kind of "disappointed" the BBC chose a human to be the new Doctor. She, meanwhile, thinks Whittaker will create a "brilliant shakeup" for the show, and would love to come back.
Lucas admits he knows if he will be back, but he talked about how it would be the last time he'd be filming with Mackie and Capaldi. "I felt a mixture of sadness that it might be a while before the three of us are on camera together again but also happiness that we had the chance to work together and create something, get to know each other, and this dynamic however fleeting was something that we could all participate in," he says. "We were getting very close to transmission, previews were starting to appear, it suddenly felt real. I felt very humbled and grateful."
As for Gomez, she recalled how amazing it was that she'd actually be in scenes with Daleks. She's also stunned that she and Capaldi would find each other again after being in university in Glascow. "Peter was the art school, and I was the drama school, and a little bit younger than him," she says. "I'd see him cutting around Glascow, and he was just like the coolest guy ever. Then, like he's the Doctor and I'm the Master, and what the….fuzz is that all about. It was that, enjoying that journey."
She also thinks that maybe making the Master female led to making the Doctor female, too, but she and Lucas think it will work. "Everyone who's played the Doctor has been brilliant," Lucas says, "There's never a Doctor where I think 'oh, you shouldn't have been the Doctor'"
So, while Comic-Con didn't get a chance to introduce the 13th Doctor, it still gave Capaldi the send-off he deserves. Maybe next year, Whittaker will head towards San Diego, just like the Doctors before her.
Finally, here's the panel itself, including the trailer and a review of Capaldi's best scenes. It was very entertaining thanks to the cast and moderator Chris Hardwick, whose choice of sweater is interesting:
"Twice Upon a Time" will air on Christmas Day on BBC America.